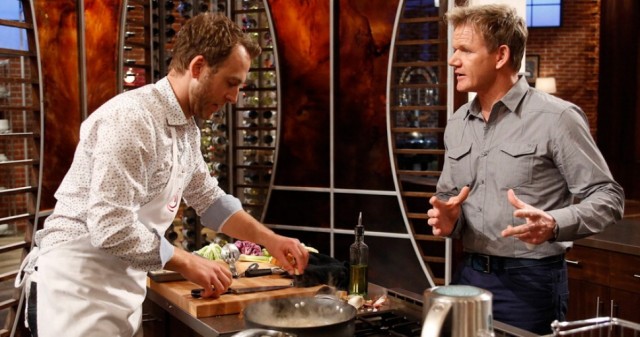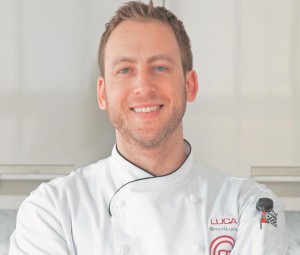 Luca Manfè (http://lucamanfe.com) is from Aviano, in the province of Pordenone (Friuli Venezia Giulia Region), a native Italian who left his home country just out of his twenties and came to the States to follow the American Dream. At the time, however, he didn't know what that dream was.
He grew up in the restaurant business and worked with great Chefs in Italy, Australia and the USA (Florida and New York), experiencing ingredients and techniques from very different cuisines, including Japanese, French, Modern American and, of course, Italian.
On his bio, Luca describes himself as a dreamer, and believe me: he dreams BIG! He is married to a stunning girl from Pennsylvania, has a son, Luca Evelino, and is a very successful restaurateur.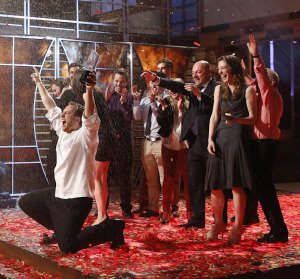 He's known for winning the fourth season of MasterChef USA. In fact, he is the first male contestant and previous season returnee to have won the title, with both decisions to advance to the second round having been decided by Gordon Ramsay. Before joining MasterChef, Luca was a restaurant manager in New York City.
Since winning MasterChef, he has established his own catering company, Dinner with Luca, and published his own cookbook: My Italian Kitchen: Favorite Family Recipes.
After 10 years of New York lifestyle, Luca moved to sunny Houston where he enjoys riding around the streets of Houston with his 1954 Ford P500 Vintage Food Truck, The Lucky Fig, serving Modern Italian Street Food.
Luca, tell us more about you and how your passion for food started.
I believe it started when I was a little kid because I always loved to eat and I was never picky. My grandmother was, and my mother is, an amazing cook, so I believe they transmitted this passion to me. I started to cook seriously only a few years ago, but before that, I was always around good food.
Since you moved to the USA 10 years ago, you experienced working with several different cuisines. What are some of your favorites?
Asian, for sure. It has fascinated me since the get go because it was a completely new world to me, so I had to work very hard to improve my knowledge on ingredients and techniques. I love Asian cuisine because it can put together extraordinary flavors, yet keeping the meal very light.
Is your food style influenced by the Friulana cuisine?
There is definitely a lot of Friuli in my food. I like to put myself on a plate and tell my story through my dishes. But I also believe in getting the best out of what the season has to offer, so it is important to find a good compromise between where I come from and where I am right now.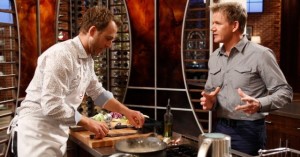 What are some of your favorite moments of your MasterChef USA experience?

The entire season was great! Favorite moments may be:
cooking lobster in a Las Vegas rooftop
camping in the middle of nowhere in California and roasting pigeons on a spit
cooking Frico in the semifinal
the Grand Finale, of course!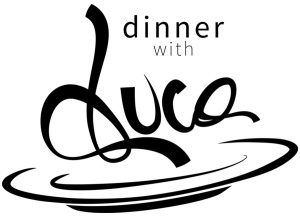 I have read a lot on how successful your Dinner with Luca is. How did you come up with the idea? The program started in New York. Do you intend to continue it here in Houston?
Dinner with Luca started when a family who watched Masterchef asked me to cook for them. Easy as that! So far, I have cooked in 227 kitchen across America and Canada. Yes, I have already cooked here in Houston in 10 different homes and I have several new bookings coming up.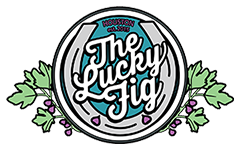 Your new adventure revolves around a sophisticated Food Truck called The Lucky Fig, which brings new generation Italian Street Food around Houston. How can we find it?
he schedule is always updated on www.theluckyfig.com/schedule and we constantly post on facebook, twitter and instagram @theluckyfig
Speaking of food and emotions, what did you grow up eating? What's your comfort food?
I grew up eating everything! There was always pasta or risotto for lunch. I remember my mother's meatballs, veal cutlet or my great-grandmother's polenta or my grandmother's rabbit stew.
There was always something from my grandfather's garden in the food, so everything was fresh and seasonal. My family was always big in traditions: I loved chicken tortellini for Christmas and 'muset' with lenticchie for new year's eve.
My comfort food is definitely frico and polenta!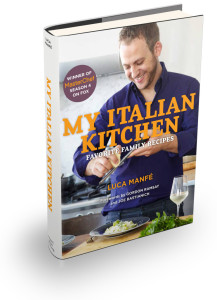 As if all you have accomplished in the kitchen wasn't enough, you also had the time to write a book. Tell us a little more about My Italian Kitchen.
'My Italian kitchen' is my business card in America. I am telling my story through my food. Food that I grew up eating, and food that I love to eat when I go back to Italy: my favorites of all time, like bruschetta and tramezzini or my signature ravioli and homemade pasta.
The book includes some easy recipes and some that are a little bit more sophisticated.
Finally, what advice would you give to other big dreamers like you?
It is important to put everything you can in what you do.
I really did not have a dream for a long time. I always knew I wanted to be successful, and I am still working very hard everyday to achieve that.
Nothing is granted and success is not easy.
Dream big and never stop dreaming, but make sure you are doing only what's best for you, not what people want you to do.
If you wake up everyday excited to go to work, I believe that it is the right path for you and hard work will always seem easy!
Good luck everybody!
Tiziana Ciacciofera Triolo for SdG International