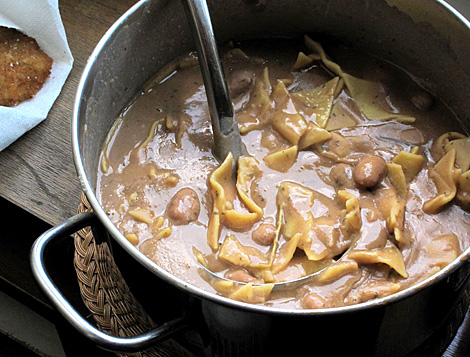 Ferriero Corbucci (who passed away some years ago) was one of the symbolic Partisan of the Resistence fighting in our province. In his book: I maltagliati (Ed. Arti Grafiche Della Torre, 2008), tells about the getaway in 1944 from the barracks Paolini of Fano to reach the hills of Schieti, where after some days escaping from the Nazi-fascists and hiding himself among blackberry bushes and woods, was found, by then worn out by tiredness and hunger, from a countryman of the area, that helped him while he was almost unconscious and took him at his house.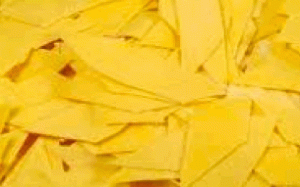 There the wife of the farmer fed him with a dish of maltagliati with beans, a fresh pasta cut into irregular shapes, and since then – he writes in his book – got well and re-started his fight with the Resistance, joining the other Partisans of the Garibaldi Brigade on the mountains.
So the maltagliati always remained for him a dish that, not only saved his life, but also gave him strenght to fight against the Nazi-fascists for freedom and democracy. He also writes that periodically, when everything was almost over, was asking his wife to prepare the maltagliati with beans, evoking every time those sad moments, full of passion and human sympathy.
Ingredients: flour 300 gr., corn flour (200 gr.), 2 eggs, salt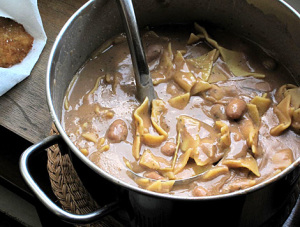 Ingredients for the sauce: beans (borlotti type), 1 onion, 1 clove of garlic, e.v. olive oil, tomato, celery, pork rind, salt and pepper.
Process: put both the flours on a surface to make a well, add the eggs and a pinch of salt with a bit of water.  Mix in the flour with a fork, knead for 20 minutes, then let it rest for about 30 minutes.
Roll out the pasta dough with a rolling pin, flouring the surface. Cut the dough irregularly, then let dry for a while (better if it's prepared the night before the use).
Process for the sauce: soak the beans for the whole night. Prepare a meat broth (1/2 liter). Thinly chop onion, garlic, celery and a carrot. Put them in a sauce pan with a drizzle of oil until they become slightly brown. Add the tomatoes in small pieces (previously peeled and the  seeds taken out), and after they are cooked, add a dipper of broth.
In another sauce pan put some olive oil and cook the boiled pork rind, cut in small pieces as well. Add the beans, 2 dippers of broth and the pieces of pork rind. In the meantime cook the maltagliati and once they are ready sautee the pasta in a pan all together with beans and pork rind. They can also be served with an addition of broth if preferred.
 by Paolo Pagnoni