Meatballs with tomato sauce: poor or noble dish?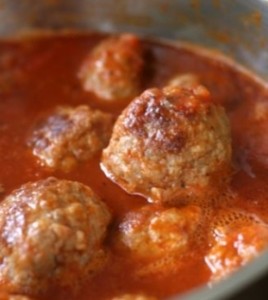 Trying to find the origins of the meatballs cooked in tomato sauce seems to be really hard, infact it is difficult to establish a precise period or even worse a geographic area.
Two are the main schools of thoughts related to the origins of this typical dish: the first one sets it as a poor dish of tradition, and certainly for many centuries it has been considered in this way.
It was a dish prepared with the left-overs of the meat, that were re-used instead of throwing them away together with other ingredients like eggs, breadcrumb, aromatic herbs, and so on…
Once re-made the result was completely different and the dish gained new tastes and parfumes, leaving commensals satisfied with their genuine meal.
By contrast, the second school of thought gives to meatballs a certain nobility. In Italian the word "polpetta" was introduced by Martino de Rossi from Como, a real innovator chef that wrote in 1450 Libro de Arte Coquinaria (the Book of the Cookery Art), considered one of the most important manuscript of Italian gastronomy of that century, because the chef used to jot down recipes, cahanges and evolution of the Renaissance cuisine compared to the Medieval one.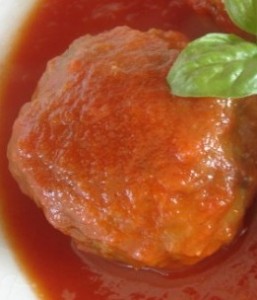 So meatballs could be a noble dish dated back to the XIVth century, not made with the meat left-overs but with noble parts of the animal. Moreover, according to Martino the word itself polpetta could originate from polpa, pulp, the most tender and tasty part of beef.
Nowadays meatballs cooked in tomato sauce are a very appreciated and widespread dish throughout Italy, with little variations depending on the regions and on the external influences of each area. Some people put garlic inside, some don't, some others fry them and then cook them in the sauce, some prefer stewed them. Other add some raisins and pine nuts while other leave them plain.
It follows one of the most common recipe in Italy: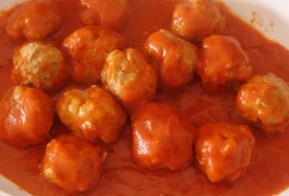 Ingredients:
minced meat 500g
fresh chopped parsley
2 eggs
grated parmisan 80g
extra virgin olive oil
breadcrumbs 80 gr
tomato sauce 500 gr
1 onion
salt
pepper
Preparation:
In a bowl put the minced meat together with eggs, parmisan, breadcrumb, parsley and mix all well.
Then prepare the meatballs using your hands, trying to give them all the same rounded shape and dimension.
In the meantime in a sauce pan sautee the onion thinly chopped in a drizzle of olive oil, as soon as the onion is slightly brown and cooked fry the meatballs on both sides, pour the tomato sauce inside, adjust with salt and pepper and let cook with the lit for at least 15-20 minutes.
Giorgia Cavera