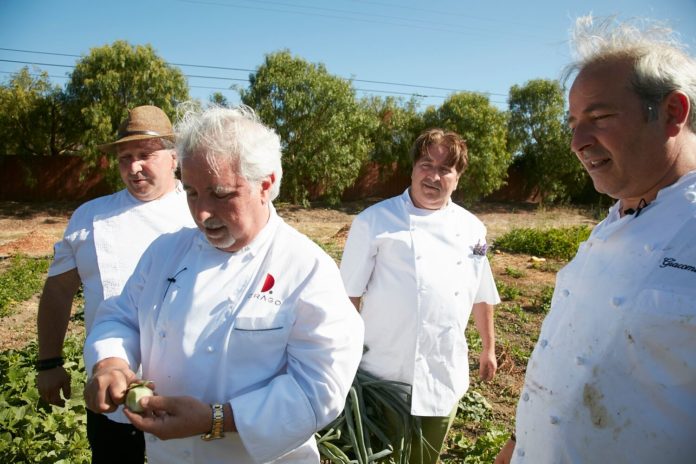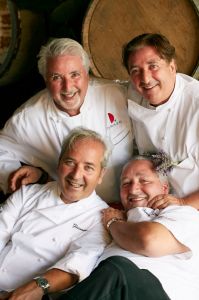 Born in Galati, Mamentino (Messina), Tanino, Calogero, Celestino and Giacomino immigrated to the United States in the late 70's.
Growing up in a family which has always cultivated their own vegetables, produced propio wine, fresh cheeses, and with an incredibly talented mother in the kitchen, how could they not inherit a great passion for good Italian food?
After studying at the "Giarre Catania" Culinary School, one by one they moved to America to launch their careers in the restaurant industry.
A look at their number of restaurants will prove just how very successful they are – the Drago empire now consists of:
Celestino
Drago – at the Peterson Museum
Il Pastaio
Il Buco
Via Alloro
Piccolo Paradiso – all of which are located in Beverly Hills
Il Segreto – Bel Air
Tanino's Ristorante – Westwood
Drago Centro – DTLA
Panzanella – Sherman Oaks
And, of course "Dolce Forno Bakery" ,Pastries which they are famously known for.
Wow!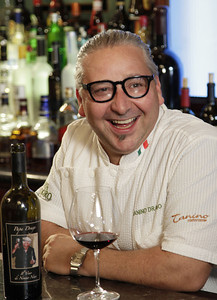 Tanino, tell us how and when you arrived in the USA. How did you start your career?
My oldest brother Celestino Drago came to the United States in 1979, opening his first restaurant in 1985, in Beverly Hills. From there, Calogero, Giacomino and myself followed in our brother's footsteps and we began working together. In 1991 "Drago Ristorante was opened, and in 1993 we opened "Il Pastaio".
"Celestino" in Pasadena opened in 1995, and in 1997 "Il Buco" opened its doors.
"Tanino's" Later opened in 1998, with "Piccolo Paradiso" opening in Beverly Hills in 1999.
After several years we opened "Via Alloro" and "Drago Centro" along with "Il Segreto" and "
Panzanella" and, our latest addition was this past year opening "Drago" at the Peterson Museum.
Since the beginning, it has been a wonderful journey.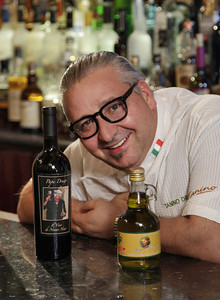 You moved to the US as a teenager, so it may be considered that you are more American than Italian. How strong have your ties remained with Italy and our beloved Sicily?
I was 19 when I arrived to the USA. I grew up in Sicily, and no matter where I go or how long I am gone, my priority is and always will be my culture – being Sicilian.
For the last 27 years, I return to Sicily every single year for two months – Sicily always inspires and motivates me to do more in bringing our beautiful culture to the rest of the world.
You are pioneers of Italian Cuisine in the USA, along with personalities such as Piero Selvaggio. Today you are considered among the greatest exponents in American restaurants. How does it feel to have brought the "Art of Italian Cooking" into American Culture?
It wasn't easy to educate the American People , however my brother Celestino was among the pioneers of Italian Cuisine in Los Angeles, and more so in 1991, when he opened "Drago Ristorante" .
We introduced authentic Sicilian specialties to 30% of our menu: "Spaghetti Bottarga" (Pasta with sardines), eggplant cooked in many different ways and Couscous- among many other dishes- was on our menu. This was a big success and our guests really appreciated what we were doing.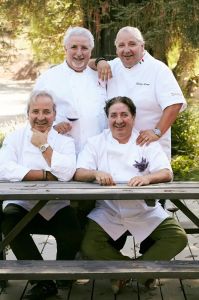 Celestino is considered by "Food and Wine" among the top 10 chefs in the USA, but the key to your successes is said to be linked to the uniqueness given by each of you to your dishes , which is required by the different personalities and demanding customers of Los Angeles – I have seen it for myself.
My brother Celestino – what can I say? Being one of the top ten chefs in the United States, I cannot be more proud to not only call him my brother, but my role model. I cannot tell you what a privilege it is to have learnt everything I know from him.
How does it feel to have celebrity guests such as Nicole Kidman, Al Pacino and Sylvester Stallone (to name a few) frequently dine at your restaurants? Do you feel intimidated, or has it become normality?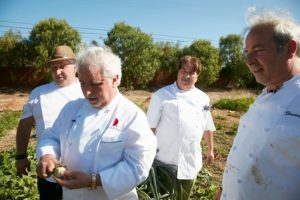 We live in the celebrity capital of the world, so it is inevitable that celebrities will dine with us – from American actors, directors, producers, musicians – you name it – to of course great Italian actors and celebrities from all around the world.
Commitment, dedication and attachment to their origins is what emerges in all Scelte di Gusto International' interviews and certainly has been the key to the Drago Brother's success. Point of reference of the Italian Restaurants in Los Angeles and who knows if one day we will find their names on the Hollywood Walk of Fame! Bravi!
Tiziana Ciacciofera Triolo for
SdG International
Note : The photos are the sole property and courtesy of the Drago's  Brothers.  Any unauthorized use is strictly prohibited.